PhD thesis
Evolvability of Computational Genetic Regulatory Networks (submitted March 2009, passed defense with minor corrections June 2009);
Now published (June 2012) in an extended version:
Computational Genetic Regulatory Networks: Evolvable, Self-organizing Systems ISBN 978-3642302954, by Springer Heidelberg, series Studies in Computational Intelligence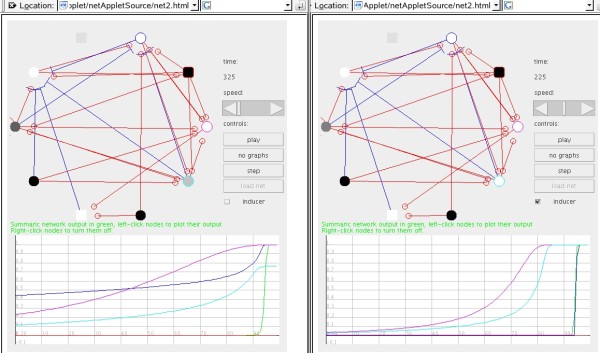 Dynamics of the same network (evolved to display two behaviours), on its way to a periodic attractor depending on inducer signal switch.

The subject area of my PhD research is Developmental Gene Regulatory Networks (DGRNs). GRNs play a key role in controling biological cells and thereby the morphogenesis as well as the lifetime metabolismic control of all multicellular organisms. As they are so successful in nature we try to model their crucial mechanisms. Basically these are a regulatory logic that allows complex dynamics and developmental/multicellularity aspects as cell differentiation. But having a model able to achieve the above listed properties we still won't be happy; DGRNs are much to complex to design by hand, so Evolutionary Algorithms are used to get the DGRN to behave in a way we like. This inevitably raises the issue of evolvability, as a system being able to show a certain behavior by no means implies that artificial evolution will be able to find such a favorable system configuration. By carefully examining the evolutionary dynamics and adjusting the algorithm one should be able to increase the probability of finding favorable configurations. Changes to the representation of the system configuration, the process of offspring generation and the environment over evolutionary time might prove useful.
An introductory overview is provided in the slides of our ICSB tutorial Genetic Algorithms and their Application to the Artificial Evolution of Genetic Regulatory Networks.
And as a picture often is better than a thousand words, check the videos and interactive Java applet from my ALife XI paper below!